Vehicle Safety Recalls and Daylight Savings Time
Thursday, November 1, 2018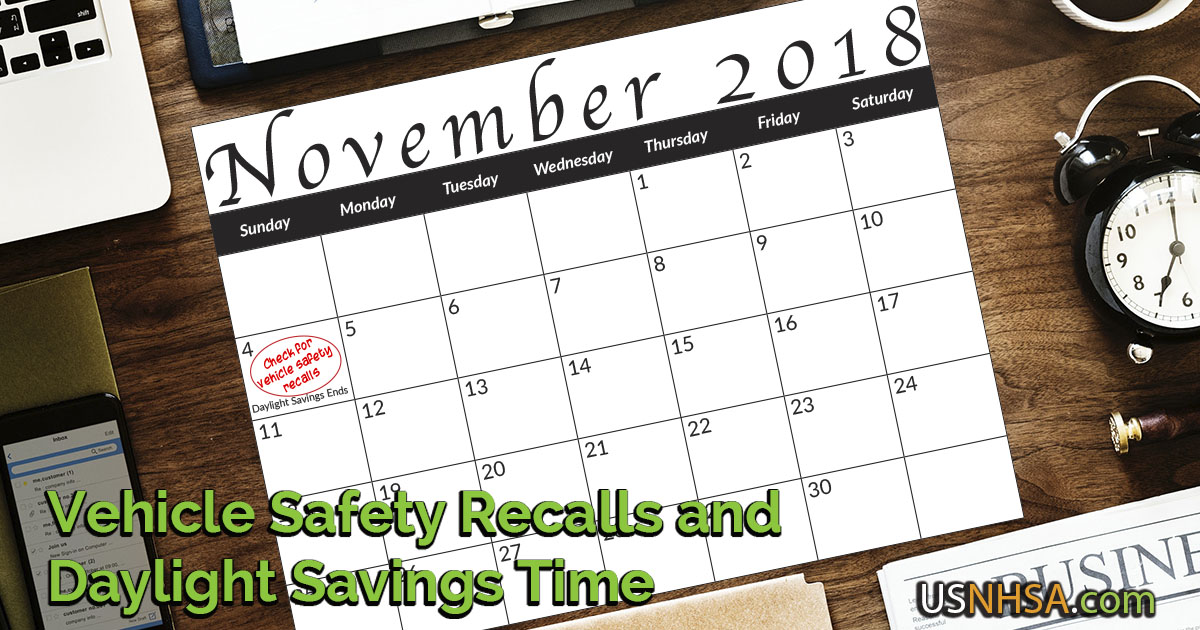 Check for vehicle safety recalls at the end of Daylight Saving Time
This year on November 4th households across the country will be setting their clocks back to standard time as Daylight Saving Time ends. This is a convenient moment to remember to do a crucial vehicle maintenance check – to see if any vehicle safety recalls have been issued for your car or truck.
What is a vehicle safety recall?
A vehicle safety recall is established when a vehicle – or any important piece of equipment on that vehicle – is considered unsafe. Recalls are established either by the vehicle manufacturer or the National Highway Traffic Safety Administration (NHTSA) and can include the whole vehicle or specific equipment, such as car seats or tires. These recalls are issued when the vehicle or part creates a safety risk or in some way doesn't meet minimum safety standards. The good thing is that any needed repairs or replacements are completely free, provided by the manufacturer.
How many people and vehicles are affected?
There were 813 new vehicle safety recalls just in 2017! That involved more than 30 million vehicles. Those safety recalls can be for any car or truck, so it is vital to check often to see if your vehicle has been listed in a recall.
How to remember to check for recalls
The NHTSA advises vehicle owners to check for recalls twice a year when setting their clocks backward or forward to observe Daylight Saving Time or to revert to standard time. Of course, vehicle repairs are not directly linked to your clock, but these important changes to your daily routine are a convenient time to remember to check for important recalls.
Where can you find out if your vehicle has a safety recall?
Fortunately, the NHTSA makes it very easy to find out if your vehicle has a safety recall. Simply visit the website at https://www.nhtsa.gov/recalls and enter your VIN or Vehicle Identification Number. The search mechanism on the website will tell you if your vehicle has a safety recall. If you'd like to get email notifications of any upcoming recalls, you can register your vehicle at https://www.nhtsa.gov/Alerts and not even have to worry about remembering to check.
When you search for recalls, you may get any of the following results: (1) Recall Incomplete, (2) Recall Incomplete, Remedy not yet available or (3) Number of open recalls: 0. The first one means there is a recall on your vehicle and that you should get in touch with the dealership to have the repairs done. The second one refers to an active recall but indicates that the manufacturer has not yet provided a fix for it. And the third one means that there is no recall on your vehicle, or that you already had your vehicle repaired.
What should you do if your vehicle does have a safety recall?
The highest priority is to make sure that your vehicle is safe. The manufacturer will provide you with guidance and the necessary safety measures you can take. Then you can call your local dealer to schedule the repair. And this point bears repeating – the repairs are free! So don't hesitate to get those repairs done, as this step can be an important step in keeping you and your family safe.
When you turn the clocks back this year on November 4th, don't forget to check for any vehicle safety recalls.