Why Should You Ride to Work on June 18th?
Monday, June 17, 2019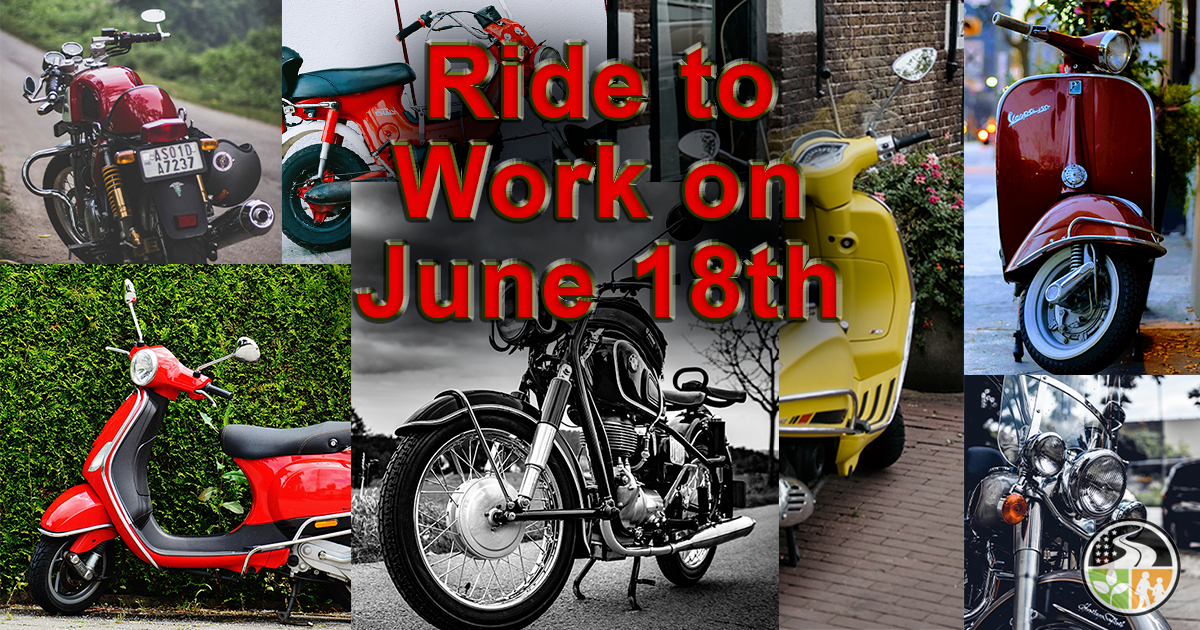 Why should you Ride to Work on June 18th?
Are you tired of getting stuck in bumper-to-bumper traffic? Are you concerned about the environment? Or would you just like a good excuse to work off that extra hamburger you ate over Memorial Day weekend?
Your chance to take action is coming up fast. June 18 is the national Motorcycle and Scooter Ride to Work Day. On every third Monday of June, the National Highway Traffic Safety Administration has been encouraging riders to hop on their motorcycles and scooters to get to work. And they've been encouraging drivers to do this for 28 years!
The problem with traffic congestion
Why should you be interested in giving your car a rest for a day and riding to work? The benefits are multiple. You can even reap the benefits even if you don't own a motorcycle or scooter to join in the fun. But first, let's take a look at the problem.
In the United States alone, traffic congestion costs the country $305 billion dollars in just one year (2017)! Those delays also mean that every driver on the road pays a huge price—U.S. drivers lose an average of 97 hours due to traffic congestion every year.
Some studies suggest that, if just 10 percent of all vehicle drivers opted to ride motorcycles (or scooters) instead, all drivers would spend 40 percent less time in traffic. 
One study also found that emissions could be reduced by six percent. The same study even suggests that if a quarter of the population made that shift to motorcycles, congestion could be completely eliminated.
Wow! No traffic on the way to work? That would be a game-changer for most commuters around the world. Why would this change take place?
How motorcycles and scooters reduce traffic
• Motorcycles and scooters take up less room on the road.
• Motorcycles and scooters pollute less than larger vehicles.
• It's easier to park a bike than a car or truck.
• If you live in an area where bikes can share lanes, traffic congestion can be reduced even more.
What safety tips should you keep in mind when traveling by motorcycle?
If you ride on any kind of bike, you should always do the following:
• Wear a helmet.
• Have the correct license.
• Obey the rules of the road.
• Make sure your bike is in good condition before hopping on.