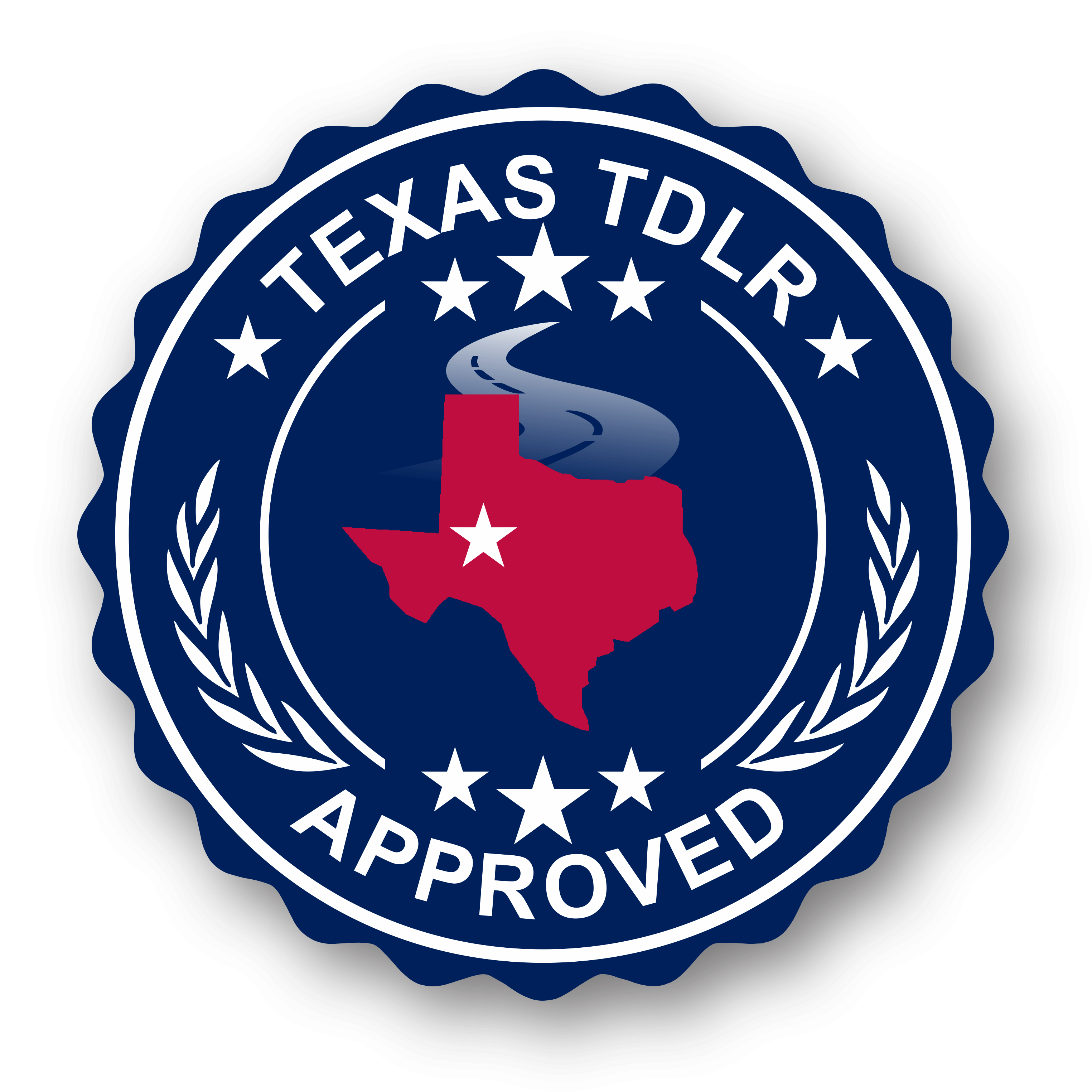 TX INSTRUCTOR TAUGHT COURSE + PERMIT TEST
NOTE: The behind-the-wheel portion of this course requires a licensed school instructor. For the Texas Parent Taught course, CLICK HERE
32-Hour Online Course
Includes DPS Permit Test
Self-Study Course
Downloadable Certificates
Practice Test Included (With Unlimited Tries)
Mobile Friendly
Sign In and Out at Your Convenience
No Hidden Fees
100% Money-Back Guarantee
Engaging Videos
Resume Where You Left Off From Any Device
BBB Accredited (A+ Rated)
| | | |
| --- | --- | --- |
| | US | COMPETITORS |
| 8AM - Midnight Customer Support | | |
| No Hidden Fees | | |
| Free Downloadable Certificate | | |
| Audio Read Along | | |
| Price Match Promise | | |
| Money Back Guarantee | | |
SALE ENDS IN

STATE-APPROVED INSTRUCTOR TAUGHT DRIVER ED (ITDE) + DPS PERMIT TEST
All first-time drivers in Texas under the age of 18 are required to complete a state-approved, 32-hour Driver Education Course to apply for a Texas Learner Permit and Driver License. Our course is state-approved and can be taken 100% online without any hassles.
ABOUT THIS COURSE:
This course has been

approved by the Texas Department of Licensing and Regulation

.
This course is 100% online and can be completed from your mobile device or computer. There is no need to download additional software or mobile apps.
You can study this online course on your own, no need to attend a classroom.  This course fulfills the classroom portion of the driver education requirement, but you must complete the behind-the-wheel training with a licensed driving school which is an additional cost. If you are looking for the Texas Parent Taught course where your parent can provide the behind-the-wheel training, click here.
We provide a 100% money-back guarantee. If you request a refund within 30 days of purchase and prior to attempting the final examination, we will refund your money, no questions asked.
You can sign in out whenever you want and we track your progress, so that when you return you can start where you left off.
No shipping required. At the end of the course, you can download and print your DE-964 certificate as proof of completion.
THINGS YOU SHOULD KNOW:
This is the Instructor Taught Course (ITDE). You can complete the required 32 hours of classroom instruction 100% online with this course, and then complete your behind-the-wheel training with a local driving school of your choice. Unlike our Parent Taught course, this allows parents to save time and leave the teaching to experienced driving instructors.
You must be between the ages of 14 and 17 years old to take this course.
You must be at least 15 years old before you can visit your local DPS and apply for your Learner Permit.
This course includes the DPS Permit Test. After completing this course, you can skip the test at the DPS office when you apply for your learner permit.
This course is the block method of instruction. Which means you will complete all 32-hours of the course and then apply for your learner permit.
HOW TO GET YOUR DRIVER LICENSE:
Sign up for our Instructor Taught Course today.
Complete this course (100% online).
Download and print your DE-964 certificate.
Visit the DPS and apply for your Learner Permit.
Complete 14 hours of behind-the-wheel training with a local licensed driving school of your choice.
Complete 30 hours of behind-the-wheel practice with any licensed adult 21 years old or older.
Return to the DPS and get your Driver License.
FUN TO WATCH–EASY TO LEARN
Our Texas Driver Education Course is designed to help you get your Texas Learner Permit fast and easy. By combining easy-to-learn text lessons with engaging animations, you'll be amazed at how quickly you'll comprehend our course material. Our course is also divided into concise one-subject chapters so you're able to concentrate on learning one subject at a time.
- TDLR Approved Instructor Taught Course School #C3042
Are there any other hidden fees?
How old do I have to be to take this course?
How long is this course?
Does this include the behind-the-wheel training?
How do I receive my Certificate of Completion?
How can I apply for a Hardship License?
What is required to get a Price-Match?
We charge NO additional fees for our course. However, you will have to pay a fee at the DPS when you get your learner permit and driver license. Currently, these fees are $16 for a permit and $11 for a license.
You must be at least 14 years old to begin this course and under the age of 18.
This course is 32 hours long and is the shortest course allowed by law. Texas law requires that all approved Driver Ed courses be a minimum of 32 hours in length.
This course includes only the 32-hours of coursework that is required to get your license. After completing this course, you will be able to get your learner permit and enroll in a local driving school of your choice for the behind-the-wheel portion of your training.
Its easy! You can instantly download your certificates. Thus there are not shipping and handling charges, and no waiting for the certificate to arrive.
You can apply for a Hardship License if you are at least 15 years of age and hold a learner license. You must have completed a 32-hour teen drivers ed course, like our Instructor-Taught course, and the required behind-the-wheel training at a TDLR-approved driving school. You will also need to take the
Impact Texas Drivers
video course. Once you have completed all your drivers education, you can fill out a
DL-77 form
. Read the instructions on the form carefully to see what situations qualify you to receive a hardship license.
Found this same course from another authorized provider? We'll match the price! Just send an email to info@usnhsa.com, or contact us via our website chat and provide a link to the webpage where we can find the course advertised at a lower price.  Once confirmed, we'll provide instruction on how to buy our course at the discounted price.
Garantía de reembolso
Estamos tan seguros de que estará 100% satisfecho de que se lo garantizamos o le devolvemos el dinero.
No hay costos ocultos
Sólo promocionamos nuestro costo actual. Lo que ves, es lo que hay.
Certificado incluido
Otras escuelas cobran cargos adicionales por el certificado de cumplimiento, ¡nosotros no!
El precio más bajo garantizado
¿Encuentra un precio más bajo? Sólo tienes que enviar un mensaje con la información sobre el precio anunciado y garantizamos superarlo.
El mejor, de lo mejor, de lo mejor…ok ya entiende el punto
Rápido y fácil
Al combinar lecciones de textos fáciles de aprender, con imágenes interesantes, usted se sorprenderá lo fácil que es comprender la materia del curso.
Súper flexible
Inicie y cierre sesiones a su conveniencia. No hay clases de aula y no hay presión para terminar. Nosotros registramos su progreso para que usted no tenga que hacerlo.
Servicio al Cliente
¿Necesita ayuda? No hay problema, llámenos o envíenos un correo electrónico y nuestro equipo de Servicio al Cliente estará a su disposición para ayudarlo.
Con nuestro entorno optimizado para dispositivos móbiles, usted puede aprender en cualquier lugar que tenga connección al Internet
Todos nuestros cursos incluyen cuestionarios interactivos que le ayudarán a medir su conocimiento y ver si está entendiendo el curso
Nuestro curso también está dividido en secciones que abarcan un solo tema a la vez para que así se pueda concentrar mejor.