Preparing for a Summer Road Trip
Friday, June 1, 2018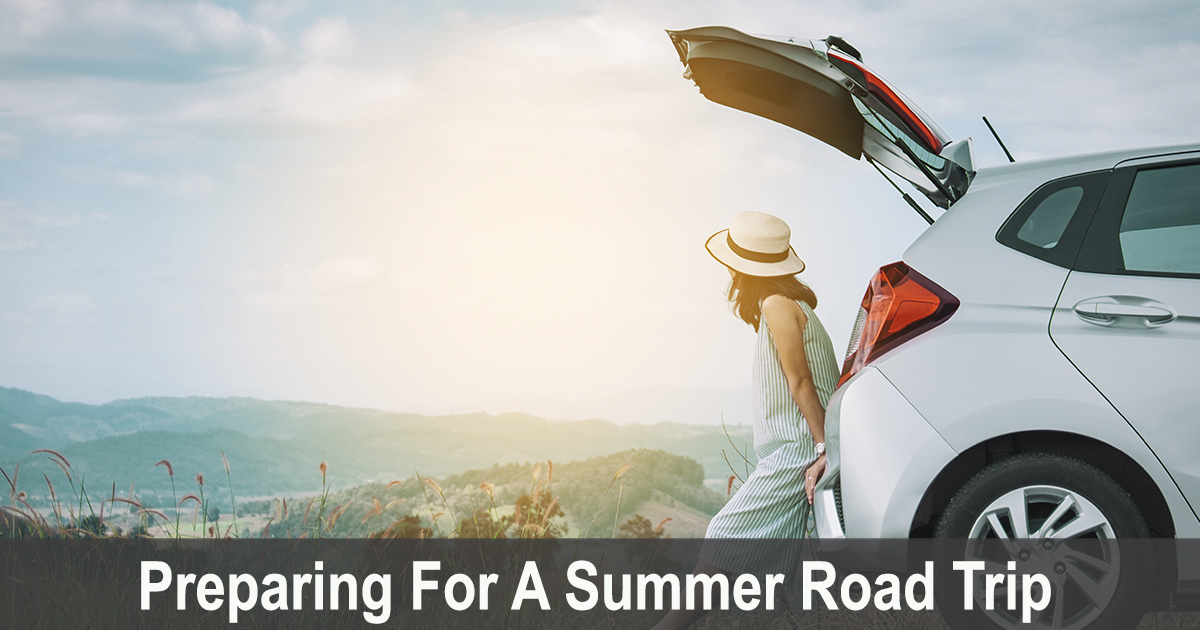 Road Trip!
Summer road trips are a cherished tradition for many families. Create wonderful memories, explore new places, and even save some money along the way by traveling together by car.
Of course, safety should be one primary concern on a long road trip. There's a valid reason for this; U.S. Department of Transportation surveys show that more deaths occur on roadways from June to August than any other time of year.
To create pleasant memories for all, take some time to plan your trip. Our summer road trip checklist is the perfect resource for making sure that your family outing will be remembered for years to come.
Plan your route
Where will you spend the night? Where will you fuel up – both the vehicle and your family's stomachs? Planning in advance will save you frustration on the road, and perhaps save you money, since it gives you the freedom to choose not only the best stops but also the most economical ones.
Prepare for the weather
The hot summer sun may beat down on your car for long hours, so you need to plan ahead to keep both your vehicle and your family cool. If the weather changes suddenly, how can you be prepared for sudden thunderstorms, hail storms, and tornadoes? Our article, 10 Ways to Cope with Summer Weather, can help you prepare.
Pack smart
Ever feel that all the necessary items never seem to fit in the car, no matter how big the vehicle is? Whether you pack too much or are a minimalist packer, remember to pack smart. Balance out the weight throughout the vehicle to make maneuvering on the roadways easier and safer. Also, make sure the essential vehicle papers are in the vehicle, such as registration and insurance cards, road assistance information, and your vehicle owner's manual.
Wax on, wax off
Waxing your car can be one of the smartest ways to protect it from summer conditions. The bright sunlight takes a toll on the paint job, as well as the frequent bird droppings you'll find when parking under leafy trees.
Keep them entertained
Choose in advance how to keep the kids engaged and happy for those long stretches of road. Download or pack games or movies for kids. Make sure you have a selection of music, books, or programs to make the hours fly by.
Inspect your vehicle
Your car needs some tender loving care before heading out. What should you take into account?
Check hoses and belts for cracks.
Check the levels. You or your mechanic should check all the essential fluid levels and filters. That includes checking the oil, brake fluid, windshield washer and power steering fluids.

Check the level and the strength of the coolant. Coolants do what it sounds like – they help keep the engine cool so it doesn't overheat.

Oil. In addition to replacing old oil, you may want to change to a higher grade in warmer weather.
Check air conditioning. Make sure cold air is actually coming out and that it's truly cold. Check the systems for leaks.
Take a look at your wipers. Are they streaking the windshield? Do they make noise? Replace them. Check the wiper fluid, too, to make sure you'll be able to keep your view clean throughout the trip.

Your tires should be in good shape for the marathon ahead. Examine them for wear, cracks, or other damage. Don't play it too close with this one, since you have to calculate the wear and tear on your tires during the trip. Also, reduce the risk of blowing a tire by making sure all your tires have the correct pressure, including the spare tire. If your car will be loaded down with luggage, remember to adjust the pressure accordingly.

While you're checking around the tires, remember the brakes. If you've noticed any strange noises or smells, it may be time to replace the brake pads.

Make sure the lights are on. Check your vehicle's lighting, both inside and out, before taking off on the trip. This includes headlights, turn signals, taillights, and brake lights as well as interior lights.
Tow it right
Will you tow a boat, trailer, or camper? Keep in mind the maximum weight your car can handle. If you're going to tow, make sure all the connections are properly made.
Get along with others
Remember that you'll be sharing the road with even more types of vehicles than in the cold winter months. Bikers, motorcyclists, and pedestrians are more likely to be active in the warm summer months. Give them the adequate room they need on the road, and respect them as the more vulnerable roadway users.
Take a break
Driving while drowsy is dangerous; in 2014 alone, 846 lives were lost due to driving while overly tired. While on a long road trip, make sure you get enough sleep at night and take a rest during the afternoon hours. Try to avoid driving late at night, when exhaustion can overtake you.
Be ready for an emergency
Unexpected situations can come up, so expect the unexpected with an emergency kit. This can include flashlights, a first-aid kit, jumper cables, flares, an extra blanket, and snacks. Consider packing extra power supplies for your cell phone. Also, make sure your spare tire is in working order.